Here is the third edition of the ebook "The uses of artificial intelligence". It follows a first edition published in October 2017 and a second in November 2018. This book still covers the theme of 360 ° AI. It is particularly aimed at companies from all sectors of activity who want to understand the ins and outs of AI: its technical fundamentals, what it can be used for in their activities and how to take it in hand as well as societal issues and associated ethics.
Each edition of this ebook corresponds to a different phase of maturity in the market vis-à-vis AI:
A first version ("V0") published in spring 2016 roughed up the subject of AI at the start of its media wave, notably triggered by the victory of AlphaGo at the end of 2015.
The 2017 edition was linked to a period of discovery and structuring of the subject by companies.
The 2018 edition incorporated feedback from a number of companies and covered a greater number of vertical markets.
This 2019 edition appears when the AI ​​reaches a relative maturity age. We have entered the era of hyperchoice in the use of AI in businesses.
With each edition, my books are overweight. The 2017 edition was 362 pages long, the 2018 edition 522 pages long, and the 2019 edition was 624 pages long. These ebooks are always devoured like a Chinese menu: by picking what interests you the most! And they are always free, to be accessible to the greatest number.
Here is the cover and the link to download this ebook in PDF format (55 MB). And a big button to go even faster!
Download the ebook "Uses of artificial intelligence 2019"
I also publish a compressed PDF version below 32 MB so that it can be read on e-readers (25 MB).
This new edition contains the integration of 12 months of news on AI. To see the amount of modifications, here is a helicopter view of part of the document with its revisions (in red). I carried out these updates between the beginning of August and November 18, 2019 after having put aside the links on the news since the end of November 2018.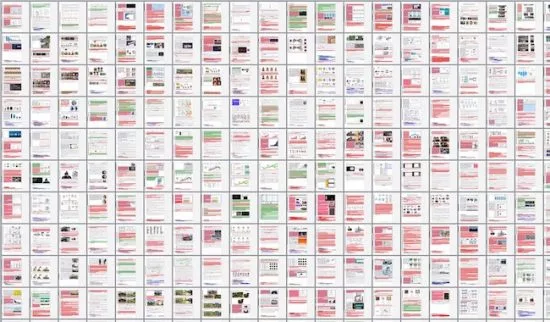 Almost all parts of the original document have been updated or supplemented:
History and semantics of AI : with recent advances in the field of games.
AI algorithms and software : update on agent networks, addition of deep forests in machine learning classification methods, details on R-CNN for the detection of multiple objects in images, addition of a part on Graph Neural Networks and update on development tools like TensorFlow.
AI data : with additional information on the data labeling process and tools and on data biases in machine learning.
AI infrastructure : with an important update on the panoply of AI processors, on the applications of quantum computing in AI (which summarizes what is found in Understanding quantum computing 2019 edition ), and a new section on AIOps (corporate IT monitoring tools).
Generic applications of AI : with notable changes in generative networks (GANs) in image processing, in finance and purchasing and in collaborative work.
AI business applications : with significant updates on aviation, distribution, agriculture, media (arts, fake news), as well as for the uses of AI in research. And updating everywhere else.
AI players : with an update of the big players' strategies (GAFAMI & Co) and on investment in AI startups.
AI and society : with additions to the ethics of AI, and geopolitically, the addition of Estonia, Taiwan and Singapore, then a point on the application of measures from the Report by Cédric Villani by l 'State.
AI and business : with some tips on project funding.
Adding a small bibliography and updating the glossary .
On the record book side, this ebook includes 2380 hyperlinks on the sources of information used for 1563 links in the 2018 edition (therefore +768, i.e. + 49%). I also reference 343 YouTube videos to occupy your winter evenings! Here is the change in pagination by section between the 2017, 2018 and 2019 editions, which allows you to locate the change in the relative weight of each part of the ebook. It is the part of business uses that is growing the most.
I always decline the content of this ebook in the form of interventions: popularization conferences, half-day seminars, training for 1 to 2 days (including a two-day training in the CapGemini Institute program ) and brainstorming workshops. I can do it and generally have already done so in the various vertical markets contained in the ebook (health, transport, banking, insurance, legal, construction, utilities, media, agriculture, etc.).
Like all the other ebooks published on this blog, this one is diffused only in electronic version. You print it if you need to, or by operating an online printing service or your company's copy center. Otherwise, to your favorite screens!
I thank in passing the few reviewers of this edition that we were Dimitri Carbonnelle and Nicolas Maurey .
As with all my ebooks, I am obviously always taking feedback, corrections and contributions that I can integrate in silent release in the document, where to put aside for a possible future version.
Good reading!